Koninklijke Philips N.V. is a health technology company based in the Netherlands.
Healthcare is a notoriously complex industry with regard to circular economics. Concerns over the safety of recycled and reused materials is just one example of the argument against installing more circular products and processes within the industry (see Circular Economy and Health). Philips, however, has been a champion for circularity in the space for several years, even publicly acknowledging it as a key contributor to its long-term value creation.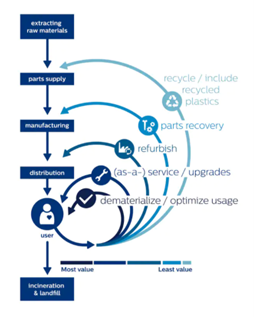 Philips has implemented a unique and scalable system in order to increase energy efficiency and encourage circularity in its products. As of 2020, the company boasted 15% of revenues from circular economy products; by 2025, it aims to increase that product share to 25%. The circularity process is four-fold: employ a modular design for ease of assembly/breakdown, extend its trade-in program to all its professional medical equipment, embed circular practices at its sites, and send zero waste to landfill. These steps demonstrate a commitment to fully integrate circular economy practices throughout its supply chain – particularly as it relates to consumer use.
When asked about the company's most recent goals, Philips CEO Frans van Houten said, "We aim to grow Philips responsibly and sustainably, and we therefore continuously set ourselves challenging environmental and social targets, and live up to the highest standards of governance."
Such impressive strides by Philips support the thesis that not only is circular economy feasible for healthcare companies, but it creates value and long-term growth opportunities when properly implemented. The company has stepped up as a leader in the space and sets the bar high for competitors to contend with.